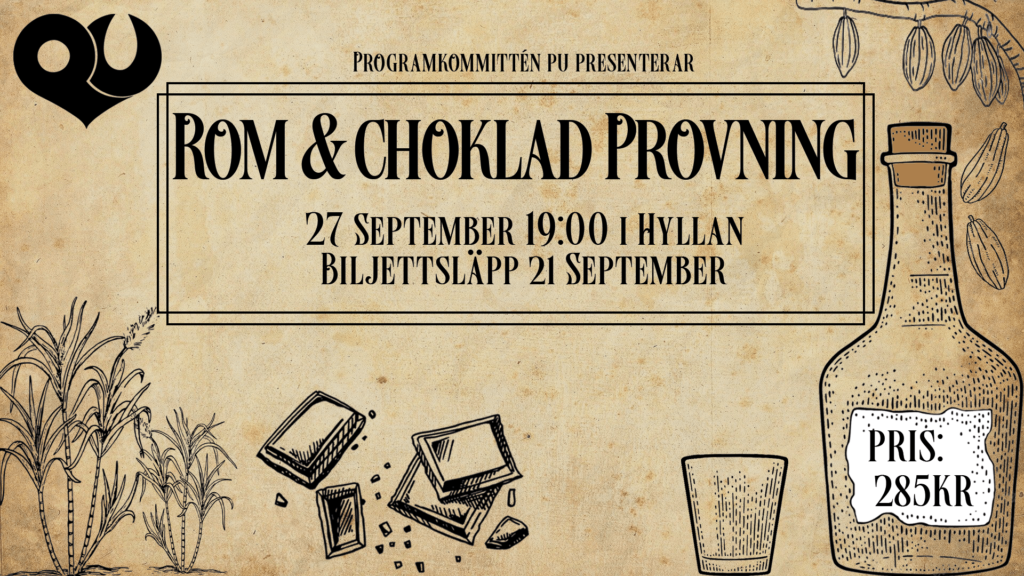 Nu är vi återigen igång! Efter ett uppehåll på provningar under sommaren kickar PU 23/24 igång läsåret med en Rom & Chokladprovning! Häng med på en kväll där vi provar romsorter från jordens alla hörn. Detta kombinerat med flera olika typer av choklad som går väl tillsammans med rom kommer att lämna ett avtryck som motiverar och inspirerar ni sent kommer att glömma!
Pris: 285 kr
Plats: Hyllan, ovanvåningen på
kårrestaurangen
Tid: 19:00, onsdag 27/9
Biljettförsäljning: Biljetter kan köpas den 21/9 mellan 12:00-13:00 vid Vörtpannan, Johanneberg samt i Kårhuset, Lindholmen. Det finns ett begränsat antal biljetter, först till kvarn gäller.
OBS! Endast 18+, giltigt leg måste visas vid inträde till provningen.
———————————————
The program committee PU presents Rum & Chocolate tasting! Join us for an evening where we try rum varieties from all over the world. This combined with several different types of chocolate that go well with rum will leave an impression that inspires and motivates!
Price: 285 kr
Place: Hyllan, top floor of the restaurant in the student union building
Time: 19:00, wednesday 27/9
Tickets sales: Tickets are sold 21/9 12:00-13:00 at Vörtpannan, Johanneberg and in Kårhuset, Lindholmen. There are a limited amount of tickets available.
NOTE! Only 18+, valid ID is required upon entrance to the tasting.
NOTE: The tasting will be held in Swedish.