Bubbelprovning: All around Europe!
|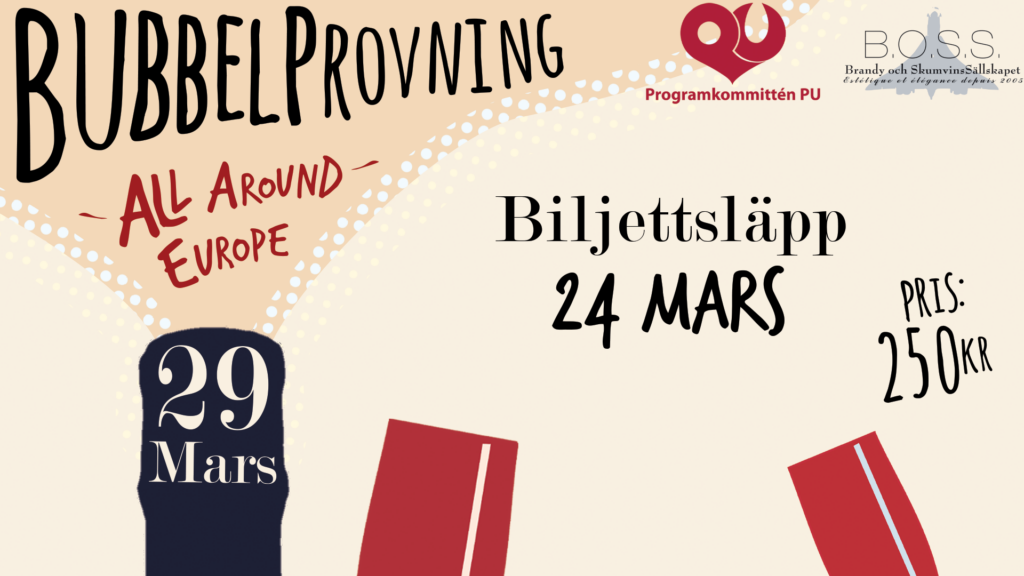 Programkommittén PU välkomnar er återigen till en BUBBELPROVNING! Denna kvällen kommer fokus ligga på Europa, och vi får prova bubbel från kontinentens alla delar.
Pris: 250 kr
Plats: Hyllan, ovanvåningen på
kårrestaurangen
Tid: 19:00, onsdagen 29/3
Biljettförsäljning:
Biljetter kommer att säljas på fredagen den 24/3 kl 12:00 i Vörtpannan, Johanneberg samt Kårhuset, Lindholmen. Det kommer att finnas ett begränsat antal biljetter, så det är först till kvarn som gäller!
OBS! Endast 18+, giltigt leg måste visas vid inträde till provningen.
**************
Programkommittén PU welcomes you once again to a SPARKLING WINE-tasting! The focus of the evening will be on the many European variants.
Price: 250 kr
Place: Hyllan, top floor of the restaurant in the student union building
Time: 19:00, Wednesday 29/3
Ticket sales:
Tickets will be sold on Friday 24/3 at 12:00, and are available at Vörtpannan, Johanneberg and Kårhuset, Lindholmen. There are a limited amount of tickets available.
NOTE! Only 18+, valid ID is required upon entrance to the tasting.
NOTE: The tasting will be held in Swedish