Amerikansk Ölprovning: a Journey across the States
|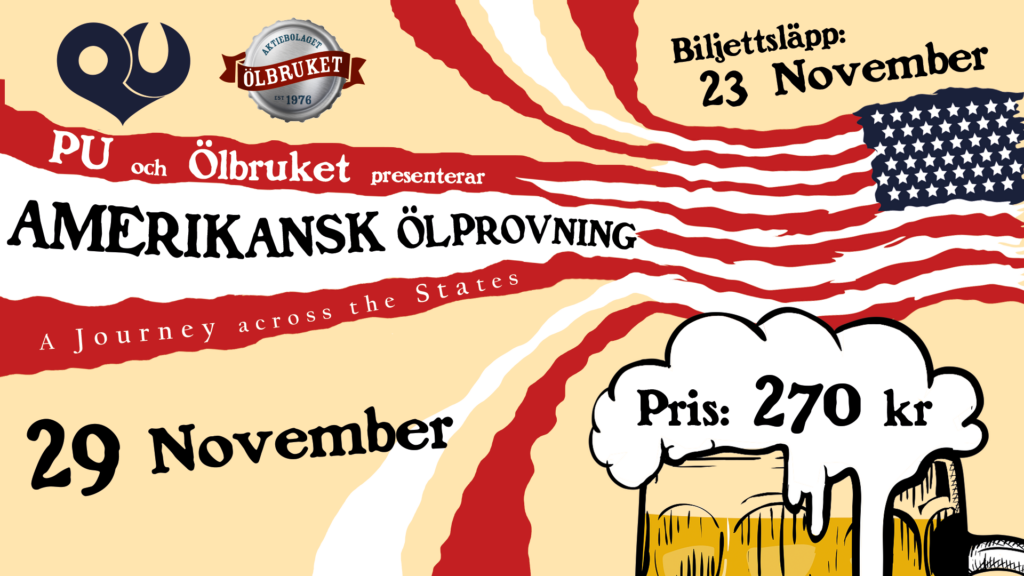 Programkommittén PU tillsammans med Ölbruket presenterar stolt höstterminens andra provning: Amerikansk Ölprovning! Häng med oss på en afton där vi drömmer oss bort till de förenta staterna och provar på ett brett sortiment av öl, presenterat av Ölbruket!
Pris: 270 kr
Plats: Hyllan, ovanvåningen på
kårrestaurangen
Tid: 19:00, onsdag 29/11
Biljettförsäljning: Biljetter kan köpas den 23/11 mellan 12:00-13:00 vid Vörtpannan, Johanneberg samt i Kårhuset, Lindholmen. Det finns ett begränsat antal biljetter, först till kvarn gäller. Man får köpa biljett åt sig själv och +1.
OBS! Endast 18+, giltigt leg måste visas vid inträde till provningen.
---
The program committee PU together with Ölbruket proudly presents the second tasting this term: American Beer Tasting! Join us for an evening where we dream away to the United States and try a wide range of beers, presented by Ölbruket!
Price: 270 kr
Place: Hyllan, top floor of the restaurant in the student union building
Time: 19:00, wednesday 29/11
Tickets sales: Tickets are sold 23/11 12:00-13:00 at Vörtpannan, Johanneberg and in Kårhuset, Lindholmen. There are a limited amount of tickets available. You may buy a ticket for yourself and +1.
NOTE! Only 18+, valid ID is required upon entrance to the tasting.
NOTE: The tasting will be held in Swedish.